As an organization, we want to know what drives and motivates our stakeholders. Our most important stakeholders are our customers (mostly European retailers, food service companies), local, national and European governments, suppliers, and other comparable market parties. Mapping the drives of our stakeholders is currently a manual process in which many channels (websites, annual reports, other information sources) are being scanned for this information. That takes a lot of time and money, and that is why it is often a process that we carry out only once every few years, and often by an external party (at least this applies to an SME company). However, we would like this information up to date, as it can change annually.
This is of particular importance in the field of sustainability; what are - per stakeholder - the requirements, wishes, legislation and innovation directions in the field of social / environmental / business economics perspective. An example are the requirements in the field of social conditions during cultivation, but also, for example, ambitions in the field of recyclable packaging. Or: how can we work together on overlapping topics and make steps towards a bright and healthy future for everyone?
A materiality matrix is the ultimate goal; because such a matrix plots the importance of a certain theme for us (Best Fresh) (horizontal axis), but also the importance of a specific theme for our stakeholders (vertical axis). The higher at the top right of the matrix, the more important a theme is (explanation of the materiality matrix). One of the examples of initiatives that have emerged in this way is to sign the SIFAV covenant (for our companies Yex and FV SeleQt). This is a cross-sectoral covenant that specifically works towards sustainable sourcing in so-called high-risk countries; we found this a very important topic, but also due to increasing customer demands and government developments, the need to sign the SIFAV covenant was even clearer.
See the example of Unilever's materiality assessment below: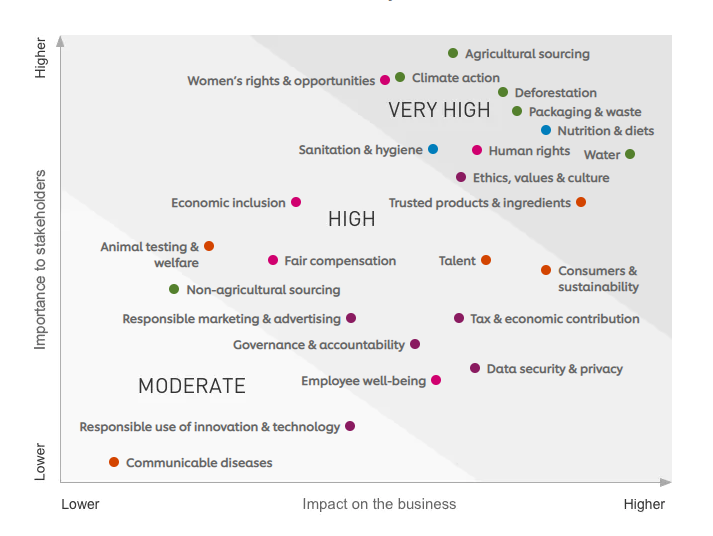 Our ultimate goal = making a widely spread impact. Do you have the solution to give us the insight to reach this goals with our stakeholders? Then we would like to receive your pitch!


About Best Fresh
Delicious food and a good lifestyle require fresh fruit and vegetables that are grown, transported, packaged, sold and prepared with the utmost care. Best Fresh is a leading family of specialists and specialised brands: from traditional high-quality vegetables from our own greenhouses to unexpected surprises of exotic origin. Since 1928, we deliver quality daily, inspire each other, and encourage all our chain partners to innovate and improve continuously with attention for people and the planet.
Contributing to a healthy world

Sustainability is firmly embedded within Best Fresh. Our products not only contribute to consumer health, but also to a healthier world. Best Fresh wants to create value for present and future generations alike. We do this by being involved in the entire supply chain and by embedding sustainability in our companies. Our sustainability policy is based on three pillars: Sustainable Supply Chain Management, Good Employment Practices and Sustainable Business Operations. Moreover, partnerships are also of great importance to us; by joining forces we will make a bigger impact.


What are we looking for?
The ideal situation would be a tool in which the (sustainable) ambitions of our stakeholders will be signaled. The information comes to the surface based on the stakeholders we enter into the tool. It would be perfect if this could be automatically updated as changes occur & that opportunities for collaboration will be automatically signaled. In this way we are always aware of the wishes and expectations of our stakeholders and we can act on that as a company.

What are we not looking for?
An advisory report in which the stakeholders' perspectives of that moment are showed.

What can you win?
Chance to test your solution in a test environment.
Interesting network of collaboration partners.
Chance of a follow-up assignment, upscaling, or sustainable collaboration with a successful pilot.
Thinking power from a company, with knowledge on CSR and stakeholder management
Terms of participation
Registered as a company (for Dutch companies: Chamber of Commerce (KVK) registration).
Being able to demonstrate a working product in outline.
Being able to start a project within 6 months.
Scalable for other companies and there must be a clear and broader demand for your solution than for our company alone
Your pitch (max 6 A4 / 18 slides)
Description of the concept: Give a short description of the concept as detailed as possible
Description of the pilot: A short description of the prototype / pilot project and what you need from Best Fresh
Description of the team: A short description of the team for your startup / scale-up
Do you have any questions? Ask them via the discussion page.


The pitch may be submitted in free form (presentation / slide deck, letter form), but must be uploaded as a PDF file (landscape or portrait A4) (max. 30MB). Videos, example websites, etc. can be included as a link.

Pitches in Dutch and English are allowed.


Timeline
20th January 2020: Launch challenge
Monday 16th March 2020: 17:00: Deadline challenge
Thursday 2th of April 2020: Anouncement selected candidates and wildcards for Matchmaking Event
Thursday 16th of April 2020: Matchmaking Event: live-pitch/ introductory interviews